BANA is pleased to announce that through the support of the Ontario Trillium Foundation we are able to provide a new website site dedicated, but not limited to providing resources to Parents, Educators, Fitness Trainers, Health Care Professionals or anyone who has a primary interest in supporting youth.  As part of the site's ongoing development, later this spring will be be offering webinars and live chat opportunities with industry leaders in the areas of risk management, body image, stress, problem gambling, LGBT health, eating disorders, nutrition and more.
Please check out the site at www.positiveinfluencer.ca
Special thanks to Ourwindsor.ca for supporting our efforts with the article below:
Bulimia Anorexia Nervosa Association launching new website to provide resources to adults
People often talk about encouraging positive body image and health in children, but rarely is there discussion about giving correct information to those who influence the youth.
Parents, caregivers, teachers and many other adults in the lives of youth can have a great deal of influence and ensuring they know the right messages to communicate is the purpose of a new website by the Bulimia Anorexia Nervosa Association in Windsor.
The 33-year-old organization held "lunch-and-learns" at different companies and organizations and during each one, discussion revolved around the attendees' children. In response to this, B.A.N.A wrote a proposal for an Ontario Trillium Foundation grant to help them reach more people and get the message across of positive health to anyone who influences youth. As a result of the proposal, BANA received $57,500.
PositiveInfluencer.ca was born.
Using money from the Trillium grant, the website is opening by the end of this month. It will provide adults with access to resources, web seminars and live chats, as well as the ability to book presentations.
Some of the webinar topics planned include body image and nutrition, but there will also be discussions on anxiety, perfectionism, depression and even gaming.
BANA interim executive director Luciana Rosu-Sieza said the website was created to answer the large number of questions posed by these adults.
"I think a lot of of people have really great intentions with youth," said Rosu-Sieza.
"But how is that influencing their self-esteem and their body image and all of those things?"
As an example, Rosu-Sieza said a parent with two kids could be unsure how to help their children avoid the problem of obesity. If one child has more weight than the other, the parent could put the first on a low-fat diet while the second child could be placed on a high-fat meal plan.
Alternatively, a parent's own body image may be discussed in relation to how it may impact a child, such as if a parent says they're not eating certain foods. That avoidance of food could translate to their child.
The hope is for this website to provide a universal message.
She said they were also hearing concerns from youth themselves that the information being distributed to their parents were made more complicated by the parents' own "protocols" at communicating the messages.
The Trillium grant also helped provide funds for a part-time health educator and a one-day dietician to help with the webinars and live chats.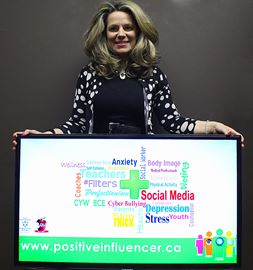 "It's essentially a one-stop shop where they can actually watch these
webinars on their own time," said Rosu-Sieza.
"We hope that this website really takes off and that people utilize it. We know that there's a gap and there's a need."
The website is expected to be live either March 29 or March 31 at the latest. It can be accessed at www.positiveinfluencer.ca.